Diabetic Foot Ulcer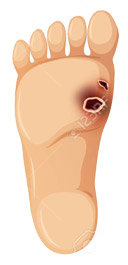 Diabetic foot ulcer (DFU) is an open sore or a wound that is commonly noted in individuals with uncontrolled diabetes mellitus because of repeated trauma and pressure to the area. It is a chronic / long-standing condition, which most commonly occurs due to underlying neuropathy or peripheral vascular disease, and is worsened by poor foot care.
Facts about diabetic foot ulcer
DFU is noted in 6.3 % of the world's population with North America having the highest prevalence that has been estimated at 13 %.
In Asia, 5.5 % of diabetic patients go on to develop DFUs.
In India, the prevalence of diabetic foot ulcer is 11.6%1.
The lifetime risk of a person with diabetes developing a foot ulcer could be as high as 25 %; this risk is elevated in the presence of other risk factors. Approximately 85 % of lower limb amputations in patients with diabetes are preceded by foot ulcerations.
Patients with type 2 diabetes mellitus are at a greater risk of foot ulcerations when compared to patients with type 1 diabetes mellitus (6.4 % vs 5.5 %) .
Elderly patients and those with a history of long-standing diabetes mellitus are at an elevated risk. The risk of DFUs is significantly high in the presence of other comorbid conditions such as high blood pressure, kidney disease, or cerebrovascular disease.
Approximately 24% of DFUs finally lead to limb amputations if sufficient precautionary measures are not instituted.
Diabetic foot was more prevalent in males than in females, and more prevalent in type 2 diabetic foot patients than in type 1 diabetic foot patients. The patients with diabetic foot were older, had a lower body mass index, longer diabetic duration, and had more hypertension, diabetic retinopathy, and smoking history than patients without diabetic foot.
WOXheal® Helpline: +91 750 687 5056
Copyright &copy 2020 Centaur Pharmaceuticals Pvt Ltd.